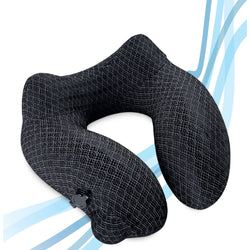 Travelmall Switzerland
Travelmall Cool Inflatable Pump Pillow with 3D Pump & Release System
This product is currently available for pre-order, and we expect to deliver it in mid-April 2023.
This pillow integrates a patented 3D pump and smart deflating system that inflates by pressing a push pump.
Made from soft and cool fabrics, this pillow offers great comfort during summer.
The camel-back design of this travel pillow follows the contours of your neck and head, providing excellent support and helping you relax and sleep, ensuring the ultimate level of comfort during your journey.
The pillow's cool fabrics may help reduce sweating during naps on planes or in cars.
It's the perfect travel companion for people traveling to hot countries.
Its foldable design saves space while traveling, making it your ideal health care and traveling companion.
The unique and exclusive design has international patent protection.
The camel-back shape conforms to the contour of your head and neck, preventing your neck from falling.
The foldable and smart deflating function allows you to deflate the pillow quickly in only a few seconds by pressing the air bleed piston on the air valve.
A storage pouch is included for convenience.
The outer cover is removable and machine washable.
Ideal for use in planes, backpacking, camping, and other places, as well as for use at home or in a car.
Comes with a one-year limited warranty.
Specifications:
Pillow surface materials: Polyester with Cool Fabrics
Inner materials: PVC
Weight: 192 grams
Size: 28.5 x 29 x 12.5 cm (inflated size)
15 x 9.5 x9.5 cm (deflated size)
What's inside:Cool Inflatable neck pillow, storage pouch