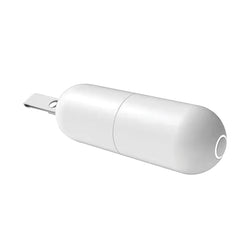 Travelmall Switzerland
Travelmall Switzerland Mini Rechargeable Warmer
Features
Keep hands warm for up to 4 hours
Pocket-sized, handy, fits an adult's hand nicely, and is easy to grasp with one hand
Rechargeable via the latest Type-C charging cable with safety protection
Multi-colour LED showing the remaining battery level
Perfect for travelling, indoor or outdoor sporting event such as hiking or camping
Specification
SKU: SW11029WH
Size: 30 × 30 × 92mm
Weight: 103g
Battery: 2000mAh, 7.4Wh
Input: DC 5V, 1A
Material: Protective cover- PC with PU strap / Body- Aluminium Alloy
Charging time: 2.5 hours
Warmer usable time: approximately 3-4 hours per charge
Heating Temperature: 50℃-55℃
How to use
(I) Charging
Remove the cover at the top of the product in a clockwise direction
Connect the included type-c charging cable and start charging
Once the charging starts, the charging capacity colour LED are shown as follows:
Battery level (0%-25%):  LED light turns red
Battery level (25%-50%): LED light turns yellow
Battery level (50%-75%): LED light turns green
Battery level (75%-100%): LED light turns blue
Once the warmer is fully charged, the blue LED light will remain steady on
Unzip the cable and close the cover by rotating the cover in anticlockwise direction

(II) Hand Warmer Function

Press and hold the warmer button for 3 seconds, the multi-colour LED will turn white. The product will first be heating up in approximately 1-2 minutes depending on the usage environment, and then stay at the temperature at 50-55℃, which is appropriate for use as a portable warmer (The surface temperature experience varies from person to person, please touch the warmer and confirm whether the temperature is appropriate before usage. If you feel very hot, uncomfortable or feel any abnormal phenomenon, please immediately stop using and contact the after-sales service.)

To check the remaining battery level, press the power/warmer button once.  Different colours of the LED listed below represents different battery levels

Red: 0%-25%
Yellow: 25%-50%
Green: 50%-70%
Blue: 75%-100%
To switch off the warmer, press and hold the warmer for 3 seconds.
Note: If the external temperature is too low, it will cause heat loss, which may mean it will take a longer time to warm up. Alternatively, it is also recommended to put the warmer into your jacket or pocket for a short time. 
Cautions
Not suitable for consumers under the age of 14 years old. Please keep out of reach of children
Small parts may cause choking hazards. Keep the product away from small children 
Do not drop the product or disassemble/assemble the product
Do not charge, use or place in a high temperature environment.
Do not put into water. avoid use and storage in damp environment.
Always switch off the device when not in use.
Unplug the charging cable after charging immediately