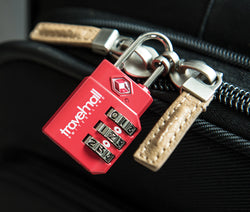 Travelmall Switzerland
Travelmall TSA 3-Dial Combination Lock, Red Edition
Simple and easy to use. The combination lock is accepted and recognized by the American Transportation Security Administration (TSA). Security authorities can unlock and inspect your luggage with a special key without damaging the combination lock. 
Very durable lock, keeps belonging secure in transit and facilitates identification.
The Signal Search TSA Lock features a red security button that will pop up if any securing access device has been used, so you know whether your bag has been opened. 
Specifications
SKU: SW55001RD
Size: 42 x 32 x 14 mm
Materials: Zinc-alloy 
Colour: Red